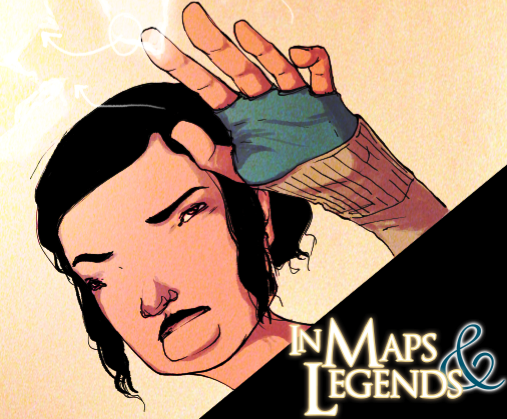 I'm sad to announce that ZudaComics.com, DC Comics' web comic imprint, is no more. The publisher has folded Zuda into its digital publishing plans with Comixology, and, due to a number of reasons, none of the most recent series (any from the last year or so) are making the transition. This unfortunately means that IN MAPS & LEGENDS and a number of other great comics have ceased serializing.
A lot of Zuda fans saw this coming when the site shut down the monthly competitions earlier this year and it was clear changes were coming. That in itself was a big loss; every month readers had been presented with a ten new comics to vote on in a huge variety of styles– stories written in haiku, drawn with crayon, drawing manga or superheroes or cartoons, all by the most international group of creators around. But the change bodes well for the future of the surviving Zuda comics, I think; the pages are practically made to fit the screens of iPads and tablets, and the new App-driven releases are great for hooking readers.
Here are a few interviews with Ron Perazza, VP of Creative Services at DC Comics (and as such, head of Zuda), about the site's transition:
Newsarama
Robot 6
Multiversity
We were only able to be serialized for a few short months, but the experience was great and our readers were amazing. We'll miss having an open forum for your comments, but hopefully Michael Jasper and I will be able to find IN MAPS & LEGENDS a new home soon, so check back for more! You can also join our Facebook group for updates.