A few months ago, I posted that I was hard at work on a collaboration with a fellow author, Michael Jasper. A few days ago, we got an email saying that our short comic, IN MAPS AND LEGENDS, has been chosen to take part in Zuda.com, a competition run by the mighty DC Comics!
Now, what's our story about?
Kait doesn't know why she gets up in the middle of the night to carve a map onto the wall of the spare room of her apartment. Before she can finish it, though, a strange man named Bartamus shows up at her place in the middle of a wintry night, claiming to be from another, dying world that desperately needs Kait's help.
If Mike and I come in first place in this contest, we'll be given a contract to continue the story. We've already got our foot in the door, getting this far, but at this point it's up to voters (and anyone they can pass it on to) to get us to #1.
So if you want to help, please CLICK HERE for instructions on voting!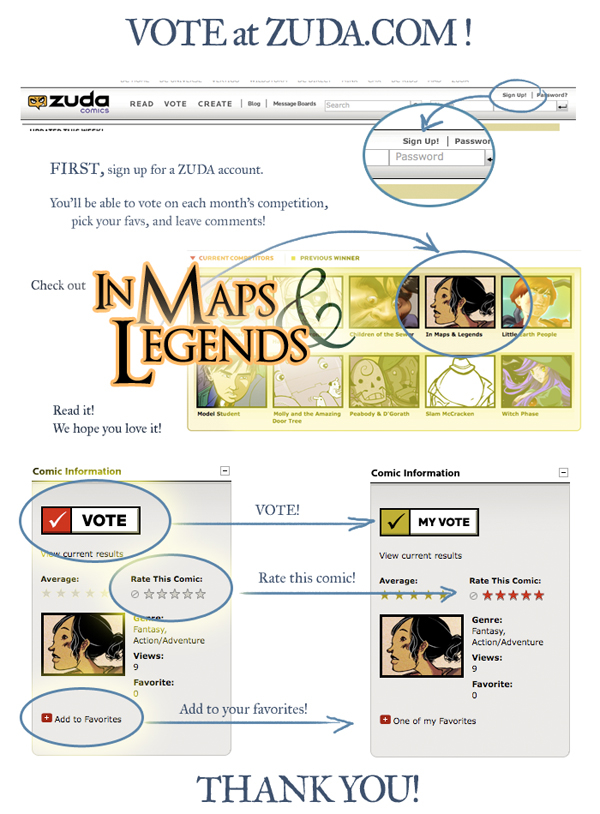 The competition only lasts for November, so please vote before the month is out! Over the next few weeks I'll be posting extra art and teasers, so keep stopping by– and get the word out!
Other links to check out:
My collaborator's announcement of the news on his blog.
Become a Facebook fan of IN MAPS & LEGENDS!